DANE AND DUSTED
Denmark made an impact on Mexico 86 in each and every method – their breathtaking soccer, their futuristic equipment or even their crew track, the jaunty earworm Re-Sepp-Ten. "We are red, we are white, we stand by side," was once the easy however memorable refrain. The comic Jarl Friis-Mikkelsen, who wrote the lyrics, urged a B-side to be performed within the match of, say, a surprising 5–1 defeat towards an inferior Spain crew. The refrain was once subtly other: "We are red, we are white, we are really deep in sh!te." The DBU courteously declined, however Mikkelsen's choice refrain has been within the Fiv … undergo with us, that is going to take a little time … Football Daily's thoughts up to now 24 hours. Denmark, who had been some other people' darkish horses to win the Human Rights World Cup, are as a substitute on flight DO1 to Copenhagen after a depressing efficiency: 3 video games, one level, one objective.
They arrived on the HR World Cup dressed in a toned-down equipment as a observation about Qatar's human-rights report, however no person anticipated them to supply 3 toned-down performances as smartly. Maybe it was once an exceptionally delicate type of protest, in the end to be published in a Palme d'Or-winning mockumentary. "We don't want to be visible during a tournament that has cost the lives of thousands of people," stated the equipment producer Hummel, and unfortunately the crew took that concept and ran with it. After the Danish Dynamite glory of Euro 2020, this was once the Danish Damp Squib. "We haven't played with the right tempo and rhythm," stated trainer Kasper Hjulmand after the 1-0 defeat to Australia. "The structure just went … The thing we shouldn't do is play with emotion in a match like this, we should play with quality. But the football sucked."
So far Denmark have been the biggest disappointment of the tournament, though that may soon change. Belgium's angsty, aging team meet Croatia on Thursday afternoon, knowing they will almost certainly go out unless they win, and then Germany play Costa Rica afterward knowing that even a win might not be enough. They are likely to give a start to Niclas Füllkrug, the beefy, gap-toothed bulldozer who looks like a Hollyoaks wrong'un but is fast becoming Football Daily's favorite player. Not bad for someone we hadn't heard of two weeks ago.
While Füllkrug's time is now, Belgium's players have been arguing over which of them is the biggest has-been. L'Equipe reported that Kevin De Bruyne's comment about Belgium being too old to win the HRWC led to a row in the dressing-room after their defeat to Morocco. "We have some outlets in Belgium that are quite happy to jump on fake news," sighs their trainer, snake-oil entrepreneur Roberto Martínez. "That's quite astonishing … [It is] probably a lesson for all of us – that we are here on our own and we are here to fight for what we believe is the way we want to play and hopefully the fans – the real fans – of the Red Devils can enjoy the process. " Belgium are red, Germany are white, and by Friday at least one of them could be really deep in sh!te.
LIVE ON BIG WEBSITE!
Join Barry Glendenning from 3pm GMT for MBM coverage of Canada 2-0 Morocco, while Rob Smyth will be on deck for Croatia 2-2 Belgium at the same time. Then John Brewin will be your guide at 7pm GMT for Japan 1-2 Spain, when Will Magee will also be at the wheel for Costa Rica 0-2 Germany.
QUOTE OF THE DAY
"We were convinced that it was over, everyone was going back to the locker room. It took a long, long time and Mr Conger, the New Zealand referee, went to consult the VAR. He was told after a very long time that there was an offside by Antoine Griezmann and that goal was therefore disallowed" – TF1 hack Grégoire Margotton explains the channel's error after it lower clear of Les Bleus' sport with Tunisia, pondering it had completed 1-1, just for the plain last-gasp equalizer to be disallowed whilst they had been on an advert ruin and with tens of millions of audience having switched off.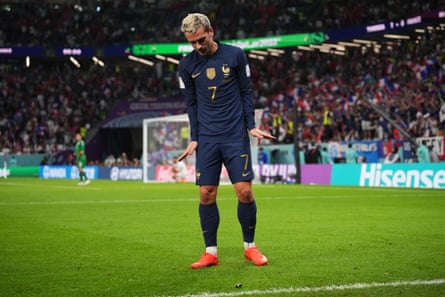 "I see those arrogant Australians also found out what happens when you flamin' don't focus on football. Oh, wait…" – Patrick O'Brien.
"How quaint of the crowd to boo Gianni Infantino when he appeared on the stadium big screen the other night. I suspect, like heel wrestlers and pantomime villains, Fifa executives accept these brickbats as a sign they are doing a good job" – John Lawton.
"Reading multiple reports from the HRWC about the England/Wales/insert team and the need to 'take the handbrake off', it has me wondering: do a lot of football writers drive around with the handbrake on? Perhaps that burning smell isn't the result of furious creativity while covering a 0-0 draw, after all" – Alex Frew McMillan.
"I bought a big telly so I could suffer England's latest tease in style. But it's also brought into sharp focus how badly the pitches are cutting up in the desert. Some of the £200bn spent on this folly of a football fest might've been better spent on the grass rather than hat-confiscating security guards" – Lindsay Williams.
Send your letters to [email protected]. Today's winner of our prizeless letter o' the day is … Patrick O'Brien,