Audrey Cordon-Ragot is aware of higher than maximum how precarious a occupation within the ladies's peloton may also be. Racing within the Tour de France Femmes, for Human Powered Health, the previous French nationwide champion has survived a stroke, two sponsor collapses and the chance of retirement prior to now one year.
While she was once convalescing from a stroke on the finish of ultimate summer season, her racing occupation was once at the verge of collapse, after her transfer to the French‑backed B&B Hotels crew fell aside.
"The B&B project had sounded amazing," says Cordon-Ragot. "But after all the expectation and media coverage, the reality was that there was no money to fund the team.
"I had my stroke in September and three months later I heard B&B was falling apart. I've been lied to since probably the first day. I realized that I had to start again.
Her experience is not unique in the women's peloton. It takes a special kind of resilience to endure sponsor uncertainty and the hardships of training and racing, often unpaid, in the hope that one day your efforts will be rewarded. Riding for free, or even funding your career through family and friends, has long been commonplace. When the Australian Jess Allen moved to Europe in 2013 she was racing unpaid as she tried to forge a career in women's racing. Now, a decade later, she is riding her first Tour de France, for Jayco AlUla.
Allen began her European racing career with the Vienne Futuroscope team that, in the intervening years, has morphed into the FDJ-Suez team led by Cecilie Uttrup Ludwig. The French-sponsored team's budget has grown from €500,000 in 2016 to €3.5m in 2023.
The team manager, Stephen Delcourt, is among those who feel that sponsors investing in men's teams should do the same in the women's scene. "For a brand these days, to not have a women's team, seems a catastrophe to me," he says. "The potential for development is huge, while the men's scene is already saturated."
Although there's a crossover of sponsors from the boys's World Tour into the ladies's World Tour, which means that that workforce, apparatus, and crew buses may also be pooled, there may be frequently an enormous disparity. The Tour de France Femmes champion Annemiek van Vleuten, of Movistar, crosses the end line and takes shelter in a luxurious air-conditioned bus, however others aren't so fortunate. Post-race, the lesser groups cram, like sardines, into camper vehicles.
"There is a big difference between the best, and the others," says Pierre-Yves Thouault, assistant director of biking on the Tour de France promoter, ASO. "We have to take that into account when designing the route, especially at the start of the race, with stages that aren't too hard or too long, to ensure a certain equilibrium."
At the guts of the issue is a big distinction in investment. "It might shock some people but there is a level of the peloton who are either unpaid, or paid very little," says Gaël Le Bellec, the sports activities director of Cofidis.
Cordon-Ragot, in the meantime, who first became skilled in 2008 with Vienne Futuroscope, has with regards to observed all of it. After the B&B Hotels crew collapsed overdue in 2022, she moved to a brand new Spanish sponsor, the short-lived Team Zaaf. "I jumped at it because I basically had no choice, but the team was not built. There was nothing there.
Her new team was woefully lacking in the basics required to race at the elite level. "We'd get there without a proper truck, without a proper mechanic, without proper staff," she says. "We looked shit, and I looked shit. I was crying, my teammates were crying.
The gap in funding and in ability is closing, but not rapidly enough to keep up with a fast-growing calendar and increasing expectations from sponsors and the audience. "We need bigger rosters," says Cordon-Ragot.
"To me, things are going a little bit too fast. Sponsors need more money to pay more riders. It's all about money, but at the same time we need the Grand Tours, because they bring money into cycling."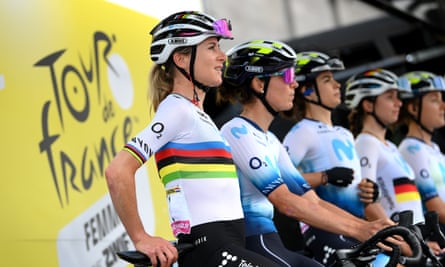 There are now three women's Grand Tours: May's Vuelta Femenina, won by Van Vleuten, July's Italian race, the Giro Donne, also won by the Dutch rider, and the Tour de France Femmes. The prize money in all three races compares poorly to the men's purses.
In the men's Tour de France, admittedly three weeks long, the overall winner pockets €500,000 and stage winners pick up €11,000. In the Tour de France Femmes, the race champion earns only €50,000, while stage winners earn €4,000. The total prize pot is €250,000, which compares with €2.3m for the men.
"There is more money now in women's cycling, but the gulf is widening," Le Bellec says. "The richest teams are getting richer and the others are struggling to keep up."