AAfter looking at Aaron Wan-Bissaka pocket Kaoru Mitoma in Sunday's FA Cup semi-final between Manchester United and Brighton, Leicester's James Maddison took to Twitter. "AWB is ridiculously good at 1 v 1 defending," he wrote. "Probably the best in the world bar none. So many wingers run out of ideas when playing directly against him.
Mitoma has been a breakout star this season, propelling Brighton towards European qualification. It is fair to say he is currently one of the most exciting wingers in world football, and even wrote a university thesis on dribbling, using cameras to analyze his teammates and how one might gain an advantage. But at Wembley the Japanese lost all six duels with Wan-Bissaka and lost possession 17 times before being substituted. When asked about the United right-back after the game, Mitoma said: "He is a strong opponent, that is what I thought while playing. I think it was a complete defeat.
Wan-Bissaka being described as a standout one-on-one defender is nothing new. But the numbers are startling. Of the 2,168 players to have attempted 100+ tackles in Europe's top five divisions since the start of the 2017–18 season, no one has a better tackle success rate than the 25-year-old, He has stolen the ball 449 times in 571 attempts, an astonishing rate of 78.6%. No other full-back in Europe comes close.
So how did a former winger, who did not receive any formal tackling training until he joined Crystal Palace's Under-23 squad, become the game's best one-on-one defender?
Wan-Bissaka's development from inconsistent right-winger to undroppable right-back in Palace's academy came as something of a surprise to all. But once he was settled in his new position his agility, intelligence, anticipation and tenacity caught the eye of Roy Hodgson, who promoted Wan-Bissaka to the first team.
Having spent most of his formative professional years marking Wilfried Zaha and Yannick Bolasie, two of the trickiest dribblers the Premier League has had, Wan-Bissaka quickly developed. Speaking to the Guardian in 2019, he emphasized how important this period in his career was. "Training up against Wilf and Bolasie toughened me up," mentioned Wan-Bissaka. "When I was younger my playing style was like Wilf's, so that sort of gave me a heads-up. But he's still a tricky one. As an ex-winger, you get a sense of what they're trying to do: which way they might go, how they're thinking. You can anticipate things easier … I have no idea where I get [my tackling] from, and I'm just as confused when I see all the stats."
Nicknamed "Spider", Wan-Bissaka remains an enigma. Yannick Lufakalyo, a renowned technical coach that the player invited to his house last year for specialist training sessions, calls his client's defending "effortless", while highlighting a mindset shift as the reason for his upturn in form this season.
"If you play for United, coaching is more about honing a player's confidence," Lufakalyo says. "Aaron was used to playing week-in, week-out. He is mentally strong but there comes a point in life where everyone gets challenged. I think he's through that period now, and now the sky is the limit.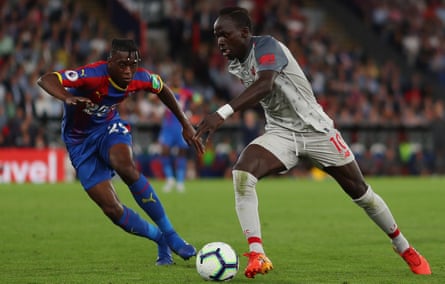 "Aaron is genetically gifted, but his biggest strength is that he can time everything on point. We worked a lot on his dribbling: I was shocked at how good he was technically. The first conversation I had with him was to tell him, 'You've got the ability.'"
,[Paolo] Maldini once said: 'If I have to make a tackle then I have already made a mistake' but I don't see it like that," adds Lufakalyo. "Tackling is a skill, and Aaron has mastered the art of slide tackling. I asked him how he got so good and he just said: 'I don't know. I'm just good at it.'"
There are obvious flaws to Wan-Bissaka's game. He is sometimes caught out positionally as part of a back four and doesn't have the delivery or passing range of Trent Alexander-Arnold, Kieran Trippier or Reece James, nor the aerial dominance of Ben White or the recovery pace of Kyle Walker. He is unfortunate to play in an era where pure defensive ability is less valued, and a time in which England have a wealth of right-back options.
Wan-Bissaka has twice received an England call-up from Gareth Southgate but had to withdraw on both occasions because of injury. Despite youth appearances for both England and DR Congo, the Croydon native remains uncapped at senior international level.
Wan-Bissaka's attacking flaws have been a source of frustration for some time but he has recently shown a marked improvement in this area, looking more composed and comfortable on the ball. Against Brighton he made some incisive breaks, completing all four of his attempted dribbles, and has become one of Erik ten Hag's most reliable performers since the World Cup break, playing in all but four league games. Of the four games Wan-Bissaka missed, United lost two (7–0 at Liverpool and 2–0 at Newcastle) and drew one (2–2 against Leeds).
Palace and Borussia Dortmund made inquiries in January about Wan-Bissaka's availability, with Barcelona and Internazionale also said to be interested in the player, but he appears to very much not be for sale having become an integral part of Ten Hag's plans at United. It would be a shock to see him leave Old Trafford this summer.
There is still much to do before then, starting with United's trip to Tottenham on Thursday, when the Spiders will be looking to catch Son Heung-min in the same web that tangled up Mitoma at Wembley.